Western Red Cedar
---

WHY WOULD YOU USE WESTERN RED CEDAR TO BUILD THE PONDS?
Western Red Cedar is renowned worldwide for its unique weather-resistant properties, and is considered a specialty wood product.
Cedar is a lightweight and dimensionally stable wood that lies flat and stays straight.  This means it resists the natural tendency to crack and check, as you might find in many other wood species, especially when exposed to direct sunlight.
Western Red Cedar's bacterial and fungal resistance, coupled with the fact that Cedar is 80% the strength of Oak, makes it the most desirable wood to use for building outdoor furniture.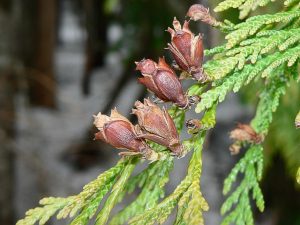 Western Red Cedar fibers contain oils that act as natural preservatives to help the wood resist rot and decay making it an excellent outdoor material for moist or humid climates.  This is why Cedar is a very popular material for hot tub and sauna areas.
Western Red Cedar has an incredible thermal co-efficient, meaning even on hot days, it is cool to sit on.
Much of today's outdoor furniture consists of chemically treated materials.  These materials hold up outdoors because they are soaked in a "toxic stew" of chemical preservatives that are strong enough to require warning labels for those who handle it.
Cedar is an all around safer/healthier choice for any outdoor product.  We use Coastal Western Red Cedar, which grows in the rain forest like conditions of the Pacific Northwest.  Growing in such a high moisture area, 'Coastal Western Red' is considered the most durable cedar and will out perform other cedar species when used outdoors; even in the harshest of conditions.