Customers say...
---

John
60 gal. - California, USA
---
I've kept ponds and aquariums for many years. My wife just retired, and we moved to a condo in Imperial Beach, CA ("America's southwesternmost city.") I like it here, but at our previous home we had a yard and an in-ground pond where I kept goldfish and, at times, koi. Here, we have a patio of about 110 square feet. I wanted a patio pond,so I scoured the internet diligently. I finally decided on your 60 gallon pond. It fit the dimensions of our space and is large enough to keep fish and plants. I have to tell you that I'm extremely pleased with my pond. (Pictures are attached -- I'll do more planting as spring approaches.) In my opinion, it's extraordinarily well-designed and easy to assemble. At the moment my pond houses two Shubunkin goldfish and about 10 mosquito fish. I'll probably add another goldfish or two this spring and summer. I'd recommend your ponds without reservation. This is a great goldfish pond. And you weren't kidding about the pump: it's as quiet as any pump I've ever heard. Regards, John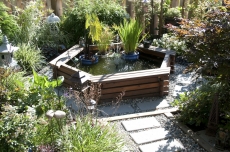 Hugh
200 gal. - BC, Canada
---
"Here is a picture of my pond in the middle of my garden. Didn't know what I was going to do with this space, until I saw your ponds. It's a perfect fit! Thanks." Hugh
Dick & Betty
60 gal. - BC, Canada
---
"We love our little pond! As you can see we have it sitting in the middle of our gazebo. We have several fish in it now & they are doing well. We've had lots of compliments on the pond! Thank you!" Dick & Betty
Lynn - Red Deer, AB
60 gal. dog pond?
---
"So far we love it! - even my 4 dogs wanted in on the fun of putting it together!" Thank you so much" Lynn - Red Deer, AB
Debbie
200 gal. - BC, Canada
---
"I'm so excited to finally have a pond. It was really easy to put together. Exactly like you said it would be. It is going to add some serious pizzazz to my gardens! I decided to keep the artificial plants in it, until my live ones get going. Kim's Ponds makes the world's easiest pond kits!! Thanks for a great product." Debbie
Karrie
Custom pond - BC, Canada
---
"We Love our pond, and so do the birds, who will often line up to take a shower in it! (while standing on the plants in the pond)…" Karrie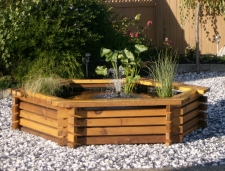 Eric
200 gal. - BC, Canada
---
"We are really enjoying our pond. What a great idea! We had never even considered owning a pond until we saw these." Eric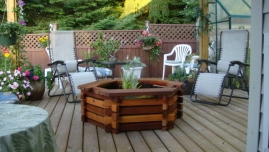 John & Mary
60 gal. - BC, Canada
---
"We like to sit around our pond in the mornings while we have our coffee. It's so nice to have it close enough to really enjoy it!" John & Mary
Judy - Langley, BC
60 gal. - BC, Canada
---
"Just a note to say what a wonderful product you make. My son and I assembled our 60 gallon pond on the weekend. Anthony is 25 and a skeptic when it comes to 'easy assembly'. He was amazed. Thank you." Judy - Langley, BC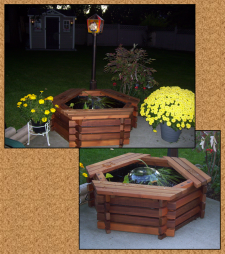 Roy & Ariel
60 gal. - BC, Canada
---
"We absolutely love our new pond. We appreciate the quality of the pond and how truly beautiful it looks on our patio. We would highly recommend this product to anyone considering a pond or water feature." Roy & Ariel
Carrie
100 gal. - California, USA
---
"We received our 100gallon pond and we love it! It is true quality and our Oranda fish, Joey, who spent his whole life (4yrs) in a 20 gallon aquarium is so happy! We are thrilled with our purchase! Thank you again for all of your customer support via phone and I sent you 6 pictures of our new pond and the wonderful home it has provided for our Joey!" Carrie
The Best Western, Tin Wis Resort
200 gal. - Tofino, BC
---
"Our pond blends in beautifully with the natural surroundings here, and welcomes guests as they arrive at our lodge. We plan to add artificial plants to make it a very low maintenance water feature, that will always be sparkling and clear." The Best Western, Tin Wis Resort
Robin
300 gal. - Massachusetts, USA
---
"Let me tell you I've never been so happy I absolutely love the pond. It looks so awesome and I cannot wait to finish landscaping, it is still too cold here in Mass to plant. I will send photos once 100% complete and I have plant growth. Again Thank You so much, it has been so worth every penny." Robin
Robin
300 gal. - Massachusetts, USA
---
"Just to follow-up with a couple photos of the 300-gal Pond landscaped here in Massachusetts. We have received so many complements on the pond in general, we love it. Kim - Thank You so Much for being the BEST pond supplier, I will highly recommend Kim's Ponds to all family and friends here in Massachusetts looking to start a pond. You have been so awesome to deal with and you are always there to answer all questions." Robin
Joe
300 gal. - Massachusetts, USA
---
"Love love love it!!! Even the mailman commented on how nice it looks. Thanks for all your help." Joe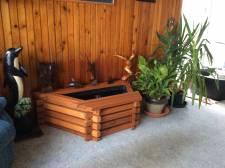 Diane
Wall Pond - BC, Canada
---
"This wall pond kit makes a great water feature in my living room and extra seating if needed. It was easy for one person to put together and is very sturdy. I will be recommending Kim's ponds to all friends and family. Great customer service and very well made products. I can't wait till spring to set up the 600 gallon pond I purchased for my pond fish for outside. Thanks again Kim." Diane.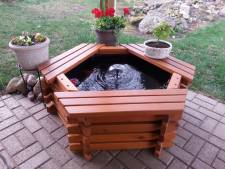 Cindy
60 gal. - Michigan, USA
---
"Love it, love it, love it. Received lots of compliments on it already and fish seem happy. Thanks so much, Cindy"
Jack
165 gal. - Florida, USA
---
We set up our pond yesterday. We are very pleased. Thanks so much. Jack
Kris
300 gal. - Georgia, USA
---
We assembled our pond kit over the weekend. I was extremely impressed with how well it was packed and the quality of the wood. The stain is gorgeous. We love it! Everything exceeded our expectations! I had reserved my boyfriend's time to help me assemble it, as it turned out I didn't even need his help - I got it all done myself while he was at the store. You guys have a lovely product and we couldn't be more pleased. Best wishes, Kris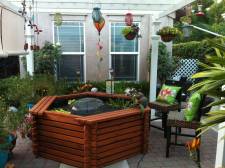 Jean
425 gal. - California, USA
---
Jean, I really appreciate the photos. Your pond looks beautiful on you patio under the arbor. What a perfect retreat!
Tammy
165 gal. - Wisconsin, USA
---
I have my pond up and running with fish & water lilies. I Love, Love, Love my pond. I've got a lot of compliments on it too! Like you said, it's easy to put together. Thank you for walking through the purchase with me. Tammy
Jonathon
300 gal. New York, USA
---
Jonathon, thank you so much for the gorgeous photos! What a beautiful spot for your 300 gal. pond. I love the way you used the diverter from the pump to run the bamboo water feature.
Becky & Rick
200 gal. - Pennsylvania USA
---
We LOVE our pond! It really does go together so easy. We watched the video clip and it went right up. We've had a lot of compliments from our friends who have seen it too. It's currently home to our fish and turtle, plus assortment of plants. Everything is doing great there, and it's very easy to maintain. We are SO happy we ordered from you! Thanks! Becky & Rick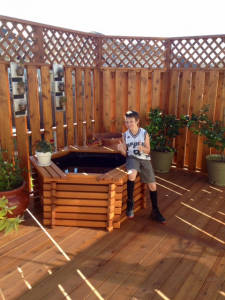 Shannon
165 gal. - Texas, USA
---
We got the pond build in 30 mins. with two people. The wood and stain are perfect and match my deck. The kids already caught a 12 inch largemouth bass and put him in the pond :) We love the pond. Thanks so much! Shannon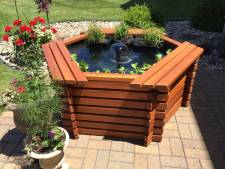 Cindi
165 gal. - Wisconsin, USA
---
I received my 165g Pond Kit Thursday evening and 90 minutes later had it setup and almost filled up. The videos on youtube were incredibly helpful. I was impressed with the way everything was packaged and thought about including the enclosed screw driver and all the instructions. This was one of the rare purchases that lived up to its expectation of "easy assembly". I added 4 comet goldfish and 12 rosy red minnows. The floating plants are hyacinths, the grasses in the floating containers are umbrella grass, there are also mini cattails. I planted a couple of lilies at the bottom of the pond and look forward to them making their way to the top. Thanks again. Cindi