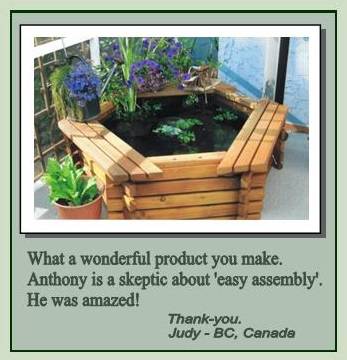 Easy Assembly
---


I'M NOT GOOD AT BUILDING DIY PROJECTS. HOW HARD IS THIS TO BUILD?

We do the hard parts and leave you with an easy-set up. You simply stack the interlocking frame rails together like a little log house. Drop in the pre-built liner. Attach the 3 benches by tightening 12 screws into pre-drilled holes, and add water with a garden hose. Check out the easy set-up video.

WHERE DO I GET THE WATER? DO I NEED TO RUN A PERMANENT PLUMBING LINE?

No plumbing required! Simply fill your pond one time with a garden hose. The pump re-circulates the same water after it is filled. Depending on your location, you may need to top up the water occasionally.

DO I NEED ANY SPECIAL TOOLS?
No. The entire pond kit is setup using only 12 square head wood screws. We even include a screwdriver for your convenience.

CAN I PUT MY POND KIT AWAY FOR THE WINTER, OR MOVE IT TO A DIFFERENT LOCATION?

Yes. Our pond kits have been designed to be taken apart easily and moved or stored. Once you have the water pumped out, you can quickly take the interlocking frame apart, and remove the flexible liner. We have a video online showing you how (see the video section at the bottom of this page).
Western Red Cedar
---

WHY WOULD YOU USE WESTERN RED CEDAR TO BUILD THE PONDS?
Western Red Cedar is renowned worldwide for its unique weather-resistant properties, and is considered a specialty wood product.
Cedar is a lightweight and dimensionally stable wood that lies flat and stays straight.  This means it resists the natural tendency to crack and check, as you might find in many other wood species, especially when exposed to direct sunlight.
Western Red Cedar's bacterial and fungal resistance, coupled with the fact that Cedar is 80% the strength of Oak, makes it the most desirable wood to use for building outdoor furniture.
Western Red Cedar fibers contain oils that act as natural preservatives to help the wood resist rot and decay making it an excellent outdoor material for moist or humid climates.  This is why Cedar is a very popular material for hot tub and sauna areas.
Western Red Cedar has an incredible thermal co-efficient, meaning even on hot days, it is cool to sit on.
Much of today's outdoor furniture consists of chemically treated materials.  These materials hold up outdoors because they are soaked in a "toxic stew" of chemical preservatives that are strong enough to require warning labels for those who handle it. 
Cedar is an all around safer/healthier choice for any outdoor product.  We use Coastal Western Red Cedar, which grows in the rain forest like conditions of the Pacific Northwest.  Growing in such a high moisture area, 'Coastal Western Red' is considered the most durable cedar and will out perform other cedar species when used outdoors; even in the harshest of conditions.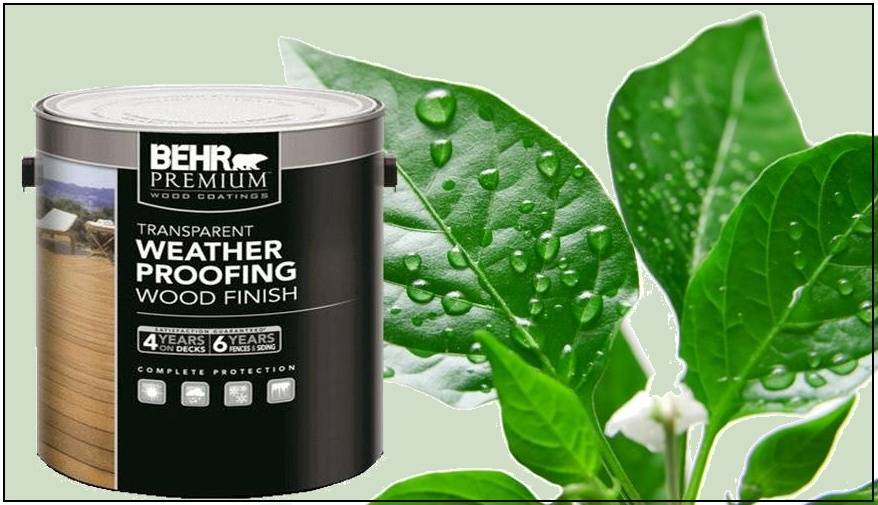 Weather Proofing Wood Stain
---

WHAT KIND OF STAIN DO YOU USE ON THE PONDS?

Our pond kits are completely finished with BEHR's best wood protectant, Premium Transparent Weather Proofing All-in-One Wood Finish, in the Cedar Naturaltone color.

HOW LONG WILL THE WOOD FINISH LAST?

This advanced 100% acrylic formula penetrates deep into the wood to deliver complete protection from the elements for up to 4 years on decks and 6 years on fences and siding. The silicone fortified formula delivers excellent protection from the sun's harmful UV rays. How frequently maintenance coats are required on your pond will depend on sun and weather exposure levels. Often, when the ponds are in direct sunlight the benches may need refinishing more often than the side rails.

Periodically, you can clean the wood surface to remove dirt and residue. This will help with color retention, dimensional stabilization and effective water repellency. If fading or wear is evident and you wish to freshen up the look, simply prepare by lightly cleaning the wood surface (mild detergent and clean water); then re-apply one maintenance coat of stain according to the manufacturer's instructions.

This water based stain is absorbed into the outer layers of the wood, so no stripping or sanding is required prior to refinishing. If you have scratches in the surfaces from day to day use, simply lightly sand them out, and then reapply the stain.
EPDM PONDGUARD Preformed Liner
---


WHAT HOLDS THE WATER?

The liner is made from Firestone PondGard EPDM. This is the same material used for most large in ground ponds. PondGard is non toxic, and carries a 20 year warranty from the manufacturer against breaking down from UV rays of the sun or rupturing from the cold.

IS THE LINER SAFE FOR FISH AND OTHER AQUATIC LIFE?

Yes. The Japanese Koi Association considers PondGard to be the world's safest liner for fish. Our .45 mil PondGard liners are non toxic, easy to care for, and have a 50 to 100 year life expectancy. Check out the section dedicated to fish care and aquatic plants in our website.
PondGard is based on EPDM synthetic rubber, a highly flexible stable material that is long lasting and easy to work with. It has been used successfully in a variety of environmental containment applications for more than a decade.
The Unique Properties Of EPDM Give PondGard These Unique Benefits:
FISH FRIENDLY: PondGard is a highly stable material that is specially formulated to be safe for exposure to fish and plant life in decorative ponds.
WEATHER RESISTANT: PondGard shows outstanding resistance to the harmful effects of ultraviolet radiation (UV), ozone and other environmental conditions - important characteristics especially along the water line of the pond where the liner can be exposed
HIGH ELONGATION: PondGard EPDM has high expansion and contraction characteristics which enable it to conform to objects in the sub-grade. This feature is especially important after the pond is in service when earth movement, or erosion, could cause roots and rocks to be dislodged beneath the membrane, placing stress on the liner. PondGard's high elongation properties will enable it to stretch over the object.
LOW MAINTENANCE: PondGard requires little or no regular maintenance once installed. Should the need arise, it is easy to repair in place with a self-adhesive Quick Seam Joint Cover Patch, minimizing cost and inconvenience.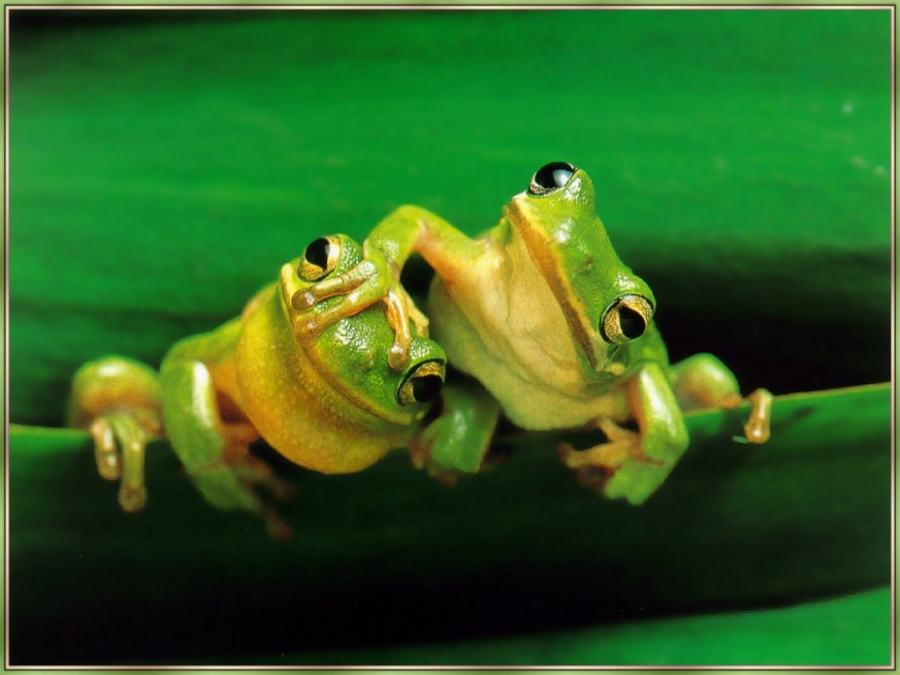 Pond Pumps & Fountains
---

DOES A PUMP COME WITH MY POND KIT?
Yes. Your kit comes with a "Quiet One" Pond Pump. These magnetic drive pumps are submersible, so they live in the middle of the pond. Each has a foam pre-filter, 3 fountain styles, and a 20 foot power cord. They plug into regular 120V, although GFCI outlet is highly recommended.
HOW BIG IS THE PUMP?
As the pond sizes get bigger, the size of the pump supplied also increases. The pumps are sized to turn over the entire volume of water in the pond more than once per hour. The more you circulate the water, the more oxygen goes into the water. Bacteria doesn't like all the oxygen, so this makes it much easier to keep the water clean.
Quiet One Model 800 pump is included with The Wall Pond, 60 gal. and 100 gal. Pond kits.
The Quiet One Model 1200 pump is included with the 200 gal. Pond kit.
The Quiet One Model 2200 is included with the 300 gal. Pond kit.
The Quiet One Model 4000 is included with the 600 gal. Pond kit.
WHAT KIND OF FOUNTAINS ARE INCLUDED WITH THE POND KITS?
The Quiet One pumps come with three fountain styles; a multi-spray (sometimes called daisy, blossom or flower), a water bell (dome shaped, like an umbrella) and using just the riser extension tube will give you a gurgle effect. You can also adjust the flow of the pump to control the height of the spray and the size of the water bell.
A note of caution, the higher you turn up the spray, the larger the "splash zone" will be. You don't want water landing outside of your pond.
ARE THE PUMPS ENERGY EFFICIENT?
Very efficient and quiet! Pond kits up to the 100 gallon size come with a pump which turns 220 gallons per hour using a 1/4 of one amp of electricity. About $1.00 per month running full time. The power gets them going but the magnets help them spin. These Quiet One pond pumps are inexpensive to operate, run a long time, and they are quiet! You get to listen to the sound of the water, and not the hum of a pump!
WHAT IS THE WARRANTY ON THE PUMPS?
Your pump comes with a three year warranty, and has a life expectancy of 10 to 12 years.  The impeller has a separate 60 day warranty.
HOW DOES THE MAGNETIC DRIVE PUMP WORK?
Basically, the power gets the pump started, and the magnetic drive turns the impeller, which uses very little energy.  The model 800 pump for example uses only 0.24 of one amp of current, to turn over 220 gallons of water per hour.  Runs 24/7 for about a $1.00 per month.
Internal re-circulation prevents overheating and ejects any obstructing debris.  Remarkable impeller technology and corrosion resistant bearings help ensure quiet operation and a significantly longer life expectancy.

WHAT IF I WOULD LIKE MORE FILTRATION?
For our larger pond kits, we offer an optional Lifegard All-in-One Pond Filter System.
The ALL IN ONE FILTER SYSTEM is a compact filter system for ponds, water gardens and fountains.  It's easy to install and is designed for easy maintenance.  Besides offering 2 different fountain spray patterns, it performs three different filtering functions:
Multi-Layer, 2 stage high capacity MECHANICAL Filtration (2 types of sponges) to remove solids.
BIOLOGICAL Filtration to promote beneficial bacterial growth.
ULTRAVIOLET STERILIZATION puts out 13 Watts of intense UV light to kill free floating algae. The ultraviolet sterilizer has a separate 20' cord so that you can operate it only when it's required.  There is an indicator light so you can see when it is working.
The SINGLE filter system runs with a quiet, efficient QUIET ONE model 2200 pond pump.  It is rated for use in ponds up to 1,000 gallons and is available with our 300 gallon pond kit.  The TRIPLE filter system runs with a model 4000 pump and is designed for ponds up to 2,000 gallons.  The triple system is best suited for our 425 & 600 gallon ponds.
The water feature fountain attachment has a ball joint leveling device to keep spray vertical even when the bottom of the pond is not level.
The advanced features of this compact filter system allow efficient operation and if installed according to instructions, will keep the water in your pond crystal clear.
Choosing a Location
---

WHERE CAN I PUT MY POND KIT?
Anywhere that is flat or fairly level, as the water will show the grade.  Most customers put these on decks, patios, or a flat spot out in the yard.  We have a section titled 'Choosing a Location' in Kims' pond guide that is included with each pond kit.   
I WANT TO PUT A POND KIT ON MY DECK.  HOW HEAVY WILL IT BE WHEN IT'S FULL? 
The sizes are measured in US Gallons.  The water is about 8.65 lbs. per gal.  For example, the 100 gallon pond is about 865 lbs. of water, and the kit weighs about 100 lbs.  A total of 965 lbs. spread over an area that is roughly 4 ft. x 5 ft.
CAN I PUT MY POND KIT INDOORS? 
While these kits are designed to be outdoors, some customers choose to set them up indoors.  Some people in colder climates have these indoors (basements, barns, garages, sun rooms, etc.) to overwinter their pond fish, aquatic plants, or even for their pet turtles.  Others have placed these indoors to provide some humidity and tranquility.  Our pond kits are like large aquariums in a sense, but it can still be a lot of water to deal with if there is ever a problem, so choose your location carefully.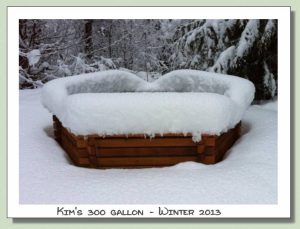 I LIVE IN A VERY COLD CLIMATE.  WHAT DO I DO IN THE WINTER?
Our PondGard liner is very durable, (still flexible below - 40) and has a 20 year warranty against breaking down from the cold (or the sun).  Some people run their ponds year round in cold climates using a pond heater (like a stock tank heater in a livestock water trough or aquarium heaters), but many people simply pump out the water, and store the pump indoors for the winter.  You don't want to freeze the pump, but if it's not too cold, you can run your pump through the winter you just need to keep an eye on it.  We have a video online showing some tips.   
Fish & Pet Habitat
---

CAN I PUT FISH IN MY POND?
Yes, the liner that we use is fish and plant safe.  Fish add a wonderful element to your pond.  They are colorful and graceful and contribute to a balanced ecological environment.  Treat them carefully and they will repay you with many years of enjoyment.
HOW MANY FISH CAN I HAVE IN MY POND?
The size of your pond generally dictates the number of fish it will accommodate.  Overstocking will create an environment that requires more maintenance.  Too few are far better than too many. Fish will often reproduce and the can grow quickly in a pond environment.   A general rule of thumb is 1 inch (2 cm) of fish for every 10 US gallons (38 liters) of water. 
You can increase the number of fish by adding more filtration. 
Koi are more specialized than goldfish and typically need more space in a pond.
CAN YOU GIVE ME SOME TIPS FOR SELECTING FISH FOR MY POND?
* Clear, bright eyes
* Undamaged fins
* Scales should be smooth, not sticking out and no red blotches
* No ulcers or bumps
* Active, lively swimming
* No white spots (salt grain size) or white cottony growths on the fins or body
* Gills should be red inside, not faded or discolored, and not distended or puffy.
* Try to avoid selecting fish from a tank or pond that contains any sick or dead fish
Choosing fish that are healthy from the beginning will help avoid future problems.
WHAT ARE THE MOST POPULAR POND FISH?  
Goldfish:  
Goldfish can generally be kept in smaller ponds than Koi.  There is a large variety of different species available.  Goldfish can get quite large, up to 12 inches (30 cm) in length.  Common varieties include: Sarasa, Comets, Red Fantails and Shubunkins.
Koi:
Koi fish are some of the most beautiful fish in the world. Because of this fact, koi are the fish most commonly associated with garden ponds.  Koi have been raised in the Orient for centuries, with the earliest colored varieties dating back two hundred years.  These fish can regularly live to be 60 years old or more, making them life-long pets.
WHEN AND HOW DO I ADD FISH TO MY POND?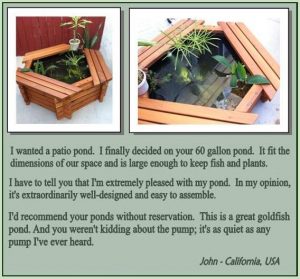 You should wait at least a week before adding fish to your new pond.  This gives the pond time to settle in and to build up some good bacteria to deal with the fish waste.
Treat your pond fish with great care.  Any handling or transportation, even introducing them to your pond will cause stress.  Take it slow when introducing new fish to you pond.  Float the bag that the fish came in on the top of the pond.  This will change the water temperature to match the water in the pond.  Stay in a shaded area or work in the evening, as the sun can quickly raise the temperature in the bag.  Add a small amount of the pond water to the bag and let it sit for a few minutes, repeat this process for about 20 minutes, this will acclimate your new fish to the pond water.  Slowly release the fish into their new home. 
Any fish that are to be added subsequently, should be quarantined before they are introduced to your existing population.
CAN I PUT MY TURTLES IN MY POND?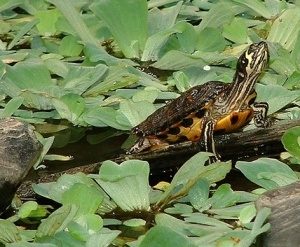 Yes, Kim's ponds make an excellent turtle habitat.  The liner is safe for turtles and is very durable.  Turtles enjoy the wide open space and it is really easy to build an island in the middle for them to bask on.  They end up with a very natural, comfortable, safe environment to call home.
Pond Kit Maintenance
---

HOW DO I KEEP THE WATER CLEAN, AND NOT GREEN?
Every pond kit comes with a pond guide that gives you tips on water care, specific to how you might be using your pond.  If you are creating an artificially decorated pond with no aquatic life contained in the water, you could simply use small amounts of bleach or chlorine to treat the water, and run a very low maintenance pond.  If you have fish or water plants, you are creating your own little biosphere.  Once established, many pond plants will help keep the water clear.  Check out our What about algae? FAQ section for more!
HOW HARD IS IT TO GET MY NEW POND ESTABLISHED?
The most important part of any pond is to establish a natural ecological balance, the same way it works in nature.  Once this natural balance is achieved, a complete cycle will take place.  The fish waste and dead vegetation will be consumed by bacteria, snails, & zooplankton.  They eventually convert the waste into a form of fertilizer that the plants can use.  This cycle is fairly easy to establish, but depends upon stocking a pond with the right amount of fish, plants, maintaining good water quality and enough sunlight for the plants to thrive.   There is more detailed information in our Aquatic Gardening section below.
I WANT A LOW MAINTENANCE WATER FEATURE.  WHAT SHOULD I DO?
The lowest maintenance is generally achieved by using artificial decorations, limiting exposure to direct sunlight, and adding small amounts of water treatments to control the bacteria which feed the growth of algae, etc.  With fish and live plants, the right combination can help filter and clean the water, while the wrong combination will have the opposite effect.
WILL MOSQUITOES BREED IN MY POND? 
Mosquitoes breed in calm water.  Having a pump in your pond to keep the water circulating adequately helps greatly.  However even with a large pump, small pockets of still water are often present in the pond where they can breed.  Not to worry, mosquito larvae are a favorite natural food for small koi and goldfish, so they will keep your pond free of mosquitoes.  If you choose to not have fish you can use Mosquito Dunks, a natural, safe way to control mosquitoes.
WHAT KIND OF MAINTENANCE DOES THE LINER REQUIRE?
The liner is designed to give you many years of worry free use.  There is no regular maintenance required at all.  When cleaning is required, simply wipe the liner with a damp cloth.  Never use any detergent or other cleansers if you have fish or plants, or ever intend to.