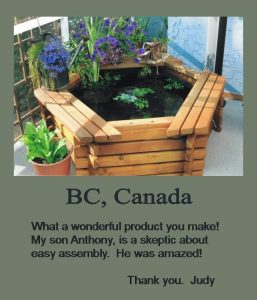 Easy Assembly
---

I'M NOT GOOD AT BUILDING DIY PROJECTS. HOW HARD IS THIS TO BUILD?
We do the hard parts and leave you with an easy-set up. You simply stack the interlocking frame rails together like a little log house. Drop in the pre-built liner. Attach the 3 benches by tightening 12 screws into pre-drilled holes, and add water with a garden hose. Check out the easy set-up video.
WHERE DO I GET THE WATER? DO I NEED TO RUN A PERMANENT PLUMBING LINE?
No plumbing required! Simply fill your pond one time with a garden hose. The pump re-circulates the same water after it is filled. Depending on your location, you may need to top up the water occasionally.
DO I NEED ANY SPECIAL TOOLS?
No. The entire pond kit is setup using only 12 square head wood screws. We even include a screwdriver for your convenience.
CAN I PUT MY POND KIT AWAY FOR THE WINTER, OR MOVE IT TO A DIFFERENT LOCATION?
Yes. Our pond kits have been designed to be taken apart easily and moved or stored. Once you have the water pumped out, you can quickly take the interlocking frame apart, and remove the flexible liner. We have a video online showing you how (see the video section at the bottom of this page).