Choosing a Location
---

WHERE CAN I PUT MY POND KIT?
Anywhere that is flat or fairly level, as the water will show the grade.  Most customers put these on decks, patios, or a flat spot out in the yard.  We have a section titled 'Choosing a Location' in Kims' pond guide that is included with each pond kit.
I WANT TO PUT A POND KIT ON MY DECK.  HOW HEAVY WILL IT BE WHEN IT'S FULL? 
The sizes are measured in US Gallons.  The water is about 8.65 lbs. per gal.  For example, the 100 gallon pond is about 865 lbs. of water, and the kit weighs about 100 lbs.  A total of 965 lbs. spread over an area that is roughly 4 ft. x 5 ft.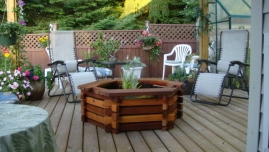 CAN I PUT MY POND KIT INDOORS? 
While these kits are designed to be outdoors, some customers choose to set them up indoors.  Some people in colder climates have these indoors (basements, barns, garages, sun rooms, etc.) to overwinter their pond fish, aquatic plants, or even for their pet turtles.  Others have placed these indoors to provide some humidity and tranquility.  Our pond kits are like large aquariums in a sense, but it can still be a lot of water to deal with if there is ever a problem, so choose your location carefully.
MY POND WILL BE IN A FULL SUN LOCATION, WILL IT GET TOO WARM?
One solution is to ensure that your pond has plenty of plants, as these shade the water and allow the fish to stay out of the direct sun.  There are also many ways to add some kind of sun shade to your pond area.  The photo shows a patio umbrella used to shade part of the pond.