Kim's D.I.Y. pond kits come complete with everything you need to create a beautiful water garden, in about an hour, without ever lifting a shovel. Available in sizes from small to large you can build a patio pond and water garden, install a fish pond on your deck, or add tranquility with water features in a garden or yard pond!
.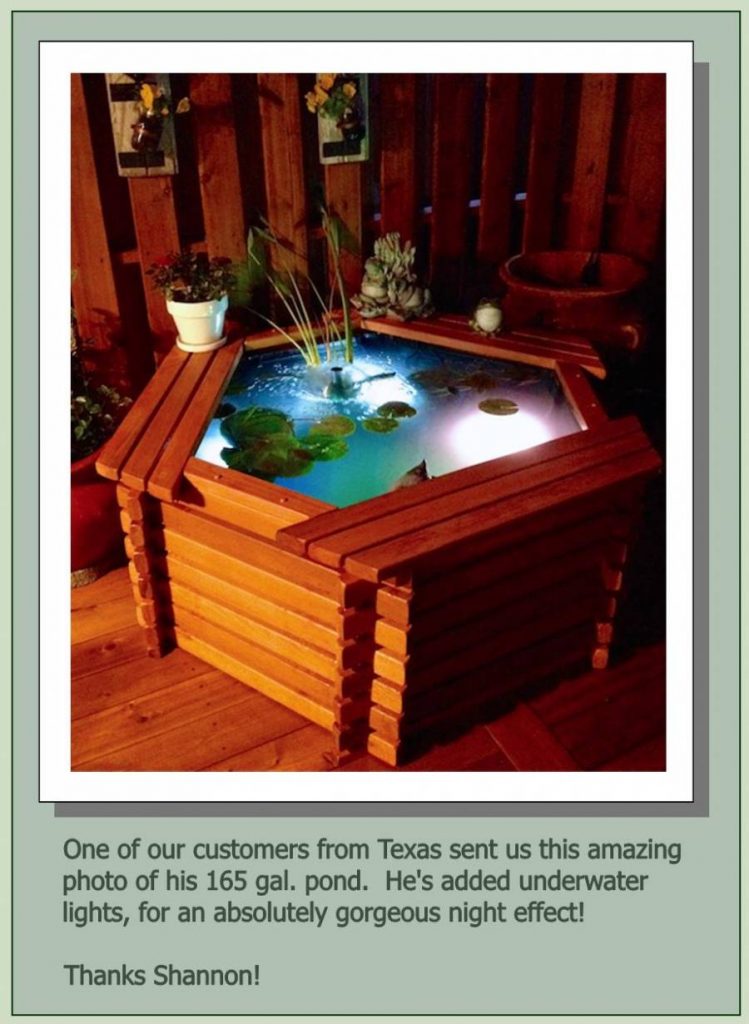 Many of us dream of owning a luxurious fish pond or water garden.  Perhaps a Koi pond, Goldfish pond or maybe a simple, low maintenance backyard water feature for aquatic gardening.  Maybe you'd like a tranquility pond where you can sit, relax and enjoy the calming sounds of the water.
Most of us put it off.  There's the high cost of a professional installation, or the daunting task of planning, building, and installing a yard pond yourself.  There could be heavy equipment and a lot of dirt, or picks and shovels and a lot of work.  And then there's the liner, the pump, the filter, the fountains...  What to buy, where to get it, and will it work? 
Today many of us live in densely populated urban areas, with only a small backyard, concrete patio, or a deck available to create our tranquility space.
Many people move often and wouldn't want to leave their beautiful pond.  Our pond kits can be disassembled easily for relocation! Even if you just want to move your pond to a different location in your yard.
PRE-BUILT, JUST REASSEMBLE AND ADD WATER
It will take you longer to add the water, than to set up your pond!
Each pond kit is pre-built, taken apart, packed into boxes and shipped to your home.  You simply re-assemble the interlocking frame like a little log house, drop in the preformed pond liner, insert and tighten 12 screws into pre-drilled holes to attach the benches.  Place the submersible pump into the pond, and add water one time with a garden hose.  The water re-circulates, so no plumbing or permanent water lines are required.